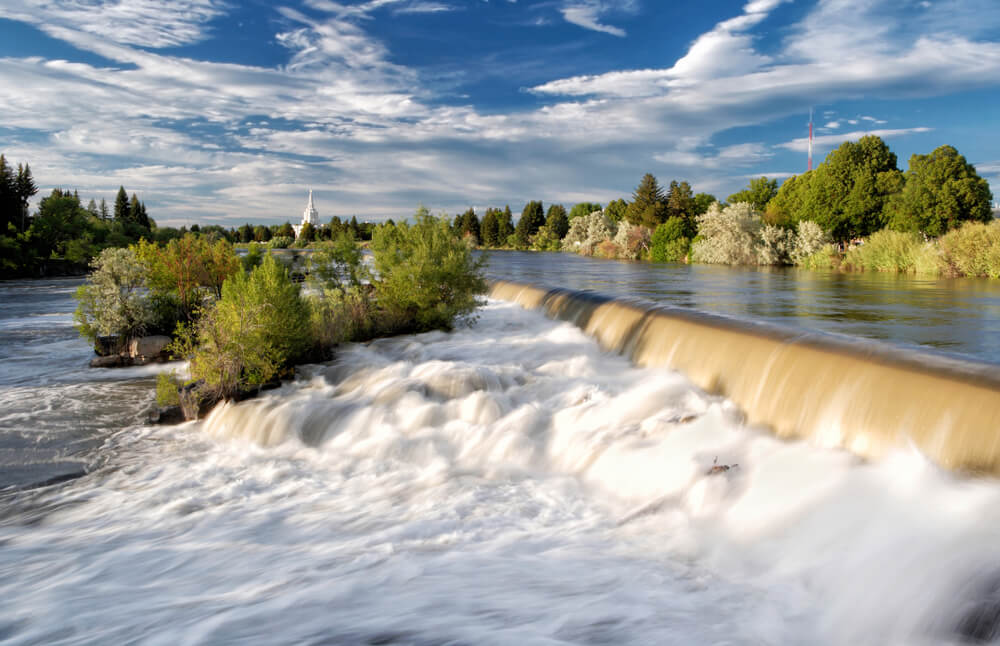 The 8 Absolutely Must-See Things To Do In Idaho Falls
Wondering what to do in Idaho Falls? That could fill a calendar. Picturesque Idaho Falls blends small-town life with big outdoor adventure. Situated in the Snake River Plain in the shadow of the mighty Rocky Mountains, Idaho Falls offers both fantastic outdoor living and diverse culture. There's a burgeoning arts community, golf courses galore, and a distinctive Western spirit and hospitality.
In this post, we've pinpointed some of the best, most exciting things to do in Idaho Falls to satisfy every interest. Time to head West.
8 Ideas For What To Do In Idaho Falls, Idaho
1. Greenbelt River Walk
You can't fully experience Idaho Falls without experiencing the Snake River. A lot of what to do in Idaho Falls is centered around the 1,000-mile-long Snake River that makes its way through six states and much of the Pacific Northwest.
The Snake River in Idaho Falls, and one of the best ways to see it is on this River Walk, a pedestrian-friendly area of town that runs for several miles on both sides of the river. Whether you want a leisurely walk or a bike ride, the walk is for you. There are often art installations along the way and special events, like the Duck Race, throughout the year.
2. Idaho Falls Zoo
One of the most kid-friendly things to do in Idaho Falls is this zoo in Tautphaus Park. With more than 300 animals representing more than 130 species, it's no wonder that the spot is called the best little zoo in the West. Animal conservation is paramount here, and you can see everything from golden eagles and penguins to lemurs, lions, wallabies, and the elusive snow leopard.
For a more hands-on experience, check out the Children's Zoo, where children can feed goats, sheep, and more.

3. Museum of Idaho
With more than 25,000 artifacts, the Museum of Idaho is what to do in Idaho when you know nothing about Idaho. It's a biology and history lesson all at once, with wonderful exhibitions on the state's original American Indian inhabitants and a look at explorers Lewis and Clark.
4. ARTitorium
Downtown is full of interesting and unexpected things to do in Idaho Falls. The one-of-a-kind ARTitorium is a highly interactive way for children (and their parents) to experience art through tons of hands-on activities, including using software and green screens to create art and displays of more than 300 pieces of art.
5. Hell's Half Acre
A lava field in Idaho? Yes, please. The 2,000-year-old — and aptly named — Hell's Half Acre is on a lava plain along the Snake River and just 25 miles outside of Idaho Falls replete with hardened lava flow and a jagged-rock landscape. It's a great place for a hike, especially up to the 700-foot-long volcanic vent.
6. Idaho Potato Museum
What to do in Idaho Falls? See potatoes, of course. We can't mention Idaho without mentioning potatoes. And yes, Idaho Falls has a potato museum (talk about an unexpected thing to do in Idaho Falls).
The sign is a giant baked potato (with butter and sour cream on top, of course), and the museum showcases the history of the potato in the region as well as the world's largest potato chip. And there's plenty of French fries and potato chips to eat in the Potato Station Café.

7. Japanese Pavilion
Idaho Falls' sister city is Tokai-Mura, Japan, and the friendship is celebrated at this gorgeous friendship garden on an island in the Snake River. You can take a footbridge to explore the gardens, including the traditional stone lantern given to the city by Tokai-Mura.
8. Melaleuca Field
Idaho isn't a huge sports state, but Idaho Falls is home to a popular minor league baseball team, the Idaho Falls Chukars, Eastern Idaho's only pro sports team. Catch a game or two at the field, which seats about 3,500.
Travel Stress-Free With Emergency Cash
To fully enjoy all the things to do in Idaho Falls, it helps to get a financial emergency burden off your back. If you're struggling with a financial emergency while on your trip to Idaho Falls, Idaho title loans may help.
Those who qualify for an Idaho title loan from Idaho Title Loans, Inc., may receive up to $15,000 to help with emergency room bills, last-minute needed travel or pressing home and car repairs.
It all starts online, and the process to qualify often takes as little as 30 minutes. Just fill out the short Idaho title loan inquiry form on our website. Soon after you submit, a loan representative will give you a call to discuss title loans, the required items, and walk you through the next steps. If you qualify, you receive your cash the same day or the very next business day. And you keep your car.

Get Started Today
In the mood to see all of the great things to do in Idaho Falls. Travel knowing that you're financially secure in case the unexpected takes you y surprise, with the help of a car title loan in Idaho. Go online, give us a call, or visit us today!
Note: The content provided in this article is only for informational purposes, and you should contact your financial advisor about your specific financial situation.